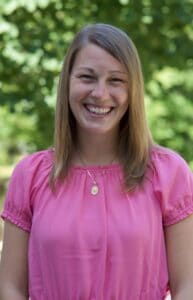 Mélanie Pilon
Mélanie Pilon was born in Ontario, Canada. She is the oldest of 4 children, and felt the call to consecrated life at an early age.
In 2005 she gave a year as a Regnum Christi missionary here in Chicago. It was during that year that she experienced the call to begin her formal discernment of a vocation in consecrated life in Regnum Christi.
Mélanie has worked with youth and families in several countries throughout her 16 years of consecrated life, including Montreal, Canada, Chicago (from 2014-2017), Dublin, Ireland and Paris, France. She obtained her Masters in Psychology from Divine Mercy University in 2020.
Mélanie is currently in a year of study, prayer and rest in order to prayerfully discern her next step in the mission, and is happy to participate in the life of the Regnum Christi family as she does so. She has received many blessings during her ministry and time in Chicago, and is grateful to be back here once again.