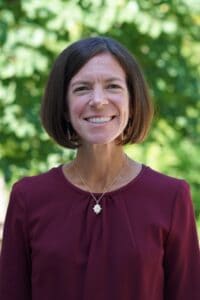 Mary Maher
Mary Maher grew up in Michigan, the second of six children and thirty grandchildren. After Jesus (and maybe chocolate), there is nothing she loves more than her big, close-knit family.
Mary consecrated her life to Christ on Aug. 29, 1997. She did her initial training and formation in Monterrey, Mexico where she quickly discovered her love for Spanish and other cultures. Her first assignment was as a high school Guidance Counselor, which kept her in Monterrey another three years. Upon returning to the US, she worked in youth and family ministry for several different parishes across Chicagoland. From 2014-2019, she served as the Coordinator of Adult Faith Formation at Immaculate Conception ​Parish in Highland Park, a community she holds very dear to her
heart. From 2019 to the present, Mary has served the Archdiocese of Chicago as an Associate Director of the "Building the New Reality" team, within the Department of Parish Vitality & Mission.
Mary is passionate about the spiritual and pastoral development of the laity. She founded the Lydia Institute (www.lydiainstitute.org ) as a response to the spiritual needs of working women who are often overstretched and underserved. She spends much of her time speaking and mentoring lay leaders who desire to invest in their spiritual and pastoral leadership.
Mary holds a BA in Education from the Anahuac University, an MA in Religious & Pastoral Studies from the Pontifical Athenaeum Regina Apostolorum , and is a Doctor of Ministry (DMin) from the University of St. Mary of the Lake.