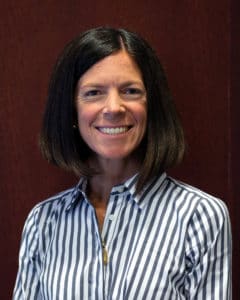 Mary Maher
Mary Maher grew up in Michigan, the second of six children and thirty grandchildren. After Jesus, there is nothing she loves more than her big, close-knit family.
Mary consecrated her life to Christ on Aug. 29, 1997. Shortly after she was sent to the CRC Formation Center in Monterrey, Mexico where she discovered her love for Spanish and the Mexican culture. After completing her studies, she worked as a high school Formation Instructor in Monterrey for three years, and then returned to the States. Since then, she's been engaged in pastoral ministry with youth and families in several different parishes across Chicagoland. Most recently she served as Coordinator of Adult Faith Formation at Immaculate Conception Parish in Highland Park, from 2014-2019. In May 2019, Mary was hired by the Archdiocese of Chicago as "Coordinator of Evangelization and Connect Groups" for the Department of Parish Vitality & Mission. She will support the Renew My Church leadership team by coaching parishes in the establishment of small-group communities and spiritual experiences for women.
Mary is passionate about the spiritual and pastoral development of the laity in light of forming missionary disciples for the New Evangelization. She spends most of her time leading small-groups for women, speaking on spiritual development topics, providing personal coaching, and training small-group facilitators. Aside from that, she devotes her time to prayer, community life, and keeping up with family.
Mary holds a BA in Education from the Anahuac University, and a MA in Religious & Pastoral Studies from the Pontifical Athenaeum Regina Apostolorum. She is currently working on her Thesis Paper for the Doctor of Ministry (DMin) degree from the University of St. Mary of the Lake (Mundelein seminary).