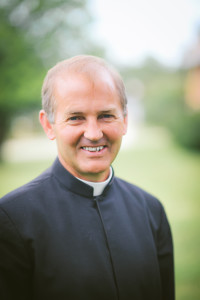 Fr. Bruce Wren
Fr. Bruce Wren was born on January 8, 1962 in the small town of Cottonwood, Idaho. After finishing high school as salutatorian of his class, he attended St. John's College in Santa Fe, N.M., where he received a Bachelor's Degree of Liberal Arts.  He received his priestly
vocation at the age of 23, and joined the Legion of Christ at the insistence of a good friend Jesuit priest. He began his novitiate in the fall of 1985 in Cheshire, CT, and in the years that followed received degrees in classical humanities, philosophy, and theology in Salamanca,
Spain and Rome, Italy. He was ordained on January 3 1996 by the Archbishop of Hartford, Daniel Cronin, and began his priestly ministry as Instructor of Novices in our French-speaking novitiate in Cornwall, Canada, on the border between Ontario and Quebec.  In 1999 he was
transferred to the "École Apostolique de l'Immaculée Conception" in France, where he practiced his priestly ministry as Rector of the School and Superior of Community until 2014. He received his new assignment in Chicago, where he is currently serving as superior of the Legionaries' Chicago community, Chaplain of the Chicago Chapter of the Lumen Institute, chaplain to the "Catholic Professionals of Illinois", and spiritual director for many religious and lay people.