Holy Week Events and Missions
April 14 @ 6:30 pm

-

April 16 @ 10:00 pm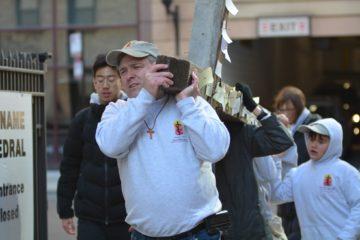 "Called by Name" Join the spirit of communion, fun, prayer & making a difference for others!
CALLED BY NAME
This Holy Week 2022 we are united in the theme: "Called by Name". We believe that God calls each one of us by name. Each of us are called to life with a unique purpose and mission.

As Holy Week missionaries, we seek to accompany Jesus during this Holy Week, celebrating the deep mysteries. We feel moved to support our parishes and Churches, inviting others to celebrate that week with us. We go out to serve those in need in various ways, sharing God's love.
All ages are welcome to join us for Holy Week Events and Missions
SCHEDULE
Holy Thursday, April 14th

6:30pm Blessing and distribution of missionary crosses – St Mary Retreat Center 14230 Main St., Lemont IL 60439

7:00pm Mass of the Lord's Supper, Adoration

8:30pm Seven Church Pilgrimage on bus (leaving from St Mary Retreat Center)

Good Friday, April 15th

1:30pm Service of the Lord's Passion – St Mary Retreat Center 14230 Main St., Lemont IL 60439

2:45pm Stations of the Cross through downtown Lemont

Holy Saturday, April 16th

8:30am Mercy missions – St Mary Retreat Center 14230 Main St., Lemont IL 60439

Rosary garden clean up, sort and assemble Buckets of Hope for disaster relief victims, prepare 300 sack lunches

The organization that we are making lunches for: Affordable Recovery Foundation

We are also collecting gently used men's clothing.

8:30am Mercy missions – Missionaries of Charity in Chicago

115 N Oakley Blvd. Chicago, IL 60612.

Space is limited

Preparing and serving breakfast for guests and prepping food

Girls and women need to have hair up

7:30pm Easter Vigil Mass at St Mary Retreat Center Small Reception after Mass

There will be a collection at every Mass to cover costs

Optional Overnight Missions for boys 8th grade thru high school
join with the students of Sacred Heart Apostolic School
sleep in the gym of Everest Academy
Drop off at Everest Academy, Thursday, April 14th at 5:00pm
Pick Up from St. Mary's after the Easter Vigil Mass, April 16th
You can expect a follow up email from Adriana Torrens
Any questions: Contact Adriana Torrens 630-751-9550
aegtorrens@gmail.com